Testimonies
---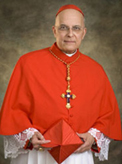 Francis Cardinal George
OMI Archbishop of Chicago
"I am most grateful for this new pro-life initiative in the Archdiocese, which will compliment the work of crisis pregnancy centers by supporting and assisting new mothers in need and make visible the truth and beauty of the church's belief in the sacredness in human life."

Carl A Anderson
Supreme Knight, Knights of Columbus
"You are truly putting into practice the pro-life convictions of the Knights of Columbus in seeking to open a home for needy women after they have given birth to children. Indeed we need to care for women and their children after they make the choice for life."

Richard G Spada
State Deputy, Knights of Columbus
"Knights of Columbus of Illinois have always led the way in making matters to the highest levels of response to those in need and our interest in life matters are no exception. The initiative of the Father McGivney Center for Hope and Healing is one such example, as its mission strives to further assist those who have chosen life. Knights of Columbus assistance goes beyond the encouragement of making the right choice to assisting those after that choice has been made. We are very proud and fully supportive of this initiative and its success."
We have also received the following letters of support:
---